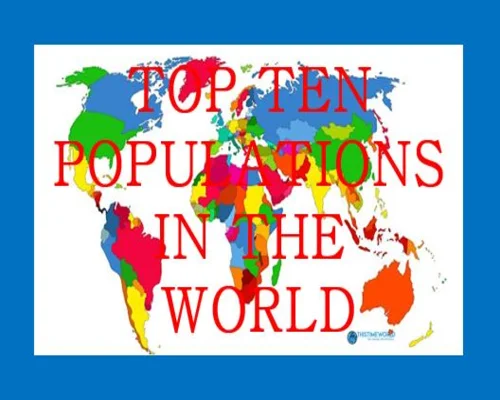 Countries with the Top Ten Populations in the World
1. China

Population: 1,397,897,720 (1.398 billion)

East Asian country China, Peoples Republic of China. The capital of China is Beijing.

population: 1.4 billion

Area:9.597 million km

Dialing code: +86

Currency: Renminbi

Gross domestic product: 14.34 trillion USD

About:

Virtual Private Network (VPN)

Fortune cookies are not Chinese.

National game Ping pong .

Tea was discovered in China.

China is known such as the Great Wall and the Forbidden City its martial arts and discoveries. Overall China is extremely safe.

China Religions - Buddhism, Taoism, Islam, Catholicism, and Protestantism.

70% of the Chinese speaks Mandarin, other Jiang (Hunanese), Least Dialect, Yu (Cantonese), Mass Dialect, Wu Dialect, and Kejia or Hakka Dialect.

2. India

Population: 1,339,330,514 (1.366 billion)

India is a country in South Asia, Republic of India. India is the most populous seventh largest by land and the democracy in the world.

Capital: New Delhi

Dialing code: +91

Area: 3.287 million km2

Official language: Hindi; English;

Demonim (s): Indian

Date format: dd-mm-yyyy;

Government: Federal Parliamentary Formation

India is famous for its ancient history, diverse landscapes and diverse culture. India is safe for most tourists.

3. United States

Population: 332,475,723 (328.2 million)

New York and the capital, Washington DC.

Dialing code: +1

Area: 9.834 million km

4. Indonesia

Population: 275,122,131 (270.6 million)

Indonesia consists of seventeen thousand islands, Java, Sulawesi,including Sumatra, and parts of Borneo and New Guinea.

Dialing code: +62

Currency: Indonesian rupiah

Capital : Jakarta

Religion in Indonesia -

Muslim 87.2 207.2

Protestant 6.9 16.5

Catholic 2.9 6.9

Hindu 1.7 4.0

Tourist Attractions in Indonesia

Sandy beach.

Borobudur.

Gili Islands.

Komodo National Park.

Mount Bromo.

Tana Toraja.

Indonesia is called the Pacific Volcano, It is also one of the most spectacular sunsets in the world with one of the best views of the famous Mount Bromo volcano from Mount Penanzacan.

5. Pakistan

Population: 238,181,034 (216.6 million)

The Pakistan is a Islamic Republic country in South Asia with a population of over 225.2 million and the second largest Muslim population in the world.

Capital: Islamabad

Dialing code: +92

Area: 881,913 km

6. Nigeria

Population: 219,463,862 (201 million)

Nigeria an West African country in the Gulf of Guinea, has many natural landmarks and wildlife areas such as Yankee National Park include waterfalls and rare primate habitats.

Capital: Abuja

Dialing code: +234

Currency: Nigerian Naira

Gross domestic product: USD 448.1 billion

Official language: English

Nigerians are known for their creative and friendly which is expressed through various creative expressions.

English is official language, there are 350 indigenous languages.

7. Brazil

Population: 213,445,417 (211 million)

Brazil is in the South America Federal Republic Country.

Area:8,515,767 square kilometers.

Capital: Brasilia

Dialing code: +55

Area: 8.516 million km

Currency: Brazilian Real

Language: Portuguese

Brazil name comes from a tree Brazilwood.

Brazil speaks Portuguese.

Brazil is famous-
1) Brazilian Carnivals.
2) Amazon Rain Forest.

3) Caprinhas.
4) The statue of Christ the Redeemer.
5) Samba dance.

6) Football

7) Iguazu Falls and National Park.

8) Pao di Quizo.

8. Bangladesh

Population: 164,098,818 (163 million)

The South Asian country of Bangladesh, east of India on the shores of the Bay of Bengal, is a South Asian country marked by green. Its Padma, Meghna and Jamuna rivers form fertile plains. On the south coast, the Sundarbans, a huge mangrove forest is home to the royal tiger.

Capital: Dhaka

Dialing code: +880

Area: 148,460 km

Gross domestic product: 302.6 billion USD

Bangladesh is home to the worlds largest river delta, made up of the Brahmaputra and Ganges rivers. The migration of Bengal tigers in the Sundarbans, a mangrove and wetland in the delta. For the longest natural uninterrupted beach in Asia (Cox's Bazar beach), which is 150 km long.

9. Russia

Population: 142,320,790 (144.4 million)

Russia, or the Russian Federation, is a country spread across Eastern Europe and North Asia.

Capital: Moscow

Area: 17.13 million km

Currency: Russian ruble

Gross domestic product: 1.7 trillion USD

Continents: Europe, Asia

Russia has the longest railway, the worlds second largest industrial museum and is home to many billionaires.

10. Mexico

Population: 130,207,371 (127.6 million)

The North American country is Mexico, officially the United Mexican States. To the north the borders of the United States; To the south and west of the Pacific Ocean; Southeast by Guatemala, Belize and the Caribbean Sea; And formerly by the Gulf of Mexico.

Capital: Mexico City

Dialing code: +52

Currency: Mexican peso

Gross domestic product: 1.269 trillion USD

Mexico Famous:

Mexican food is one of the favorite foods in the world.

Ancient temple.

Powder white sand beach.

Chocolate.

Mariachi Band.

Cathedral.

-------
Tags: top 10 Populations countries in the world, Populations country in the world, top 10 Populations countries in the world 2019, top 10 least Populations countries in the world, top 10 Populations countries in the world, most Populations countries in the world 2019, top 10 most Populations countries in the world, top 10 Populations countries in the world, top 10 most Populations countries in the world 2019, Populations countries in the world, Populations countries in the world