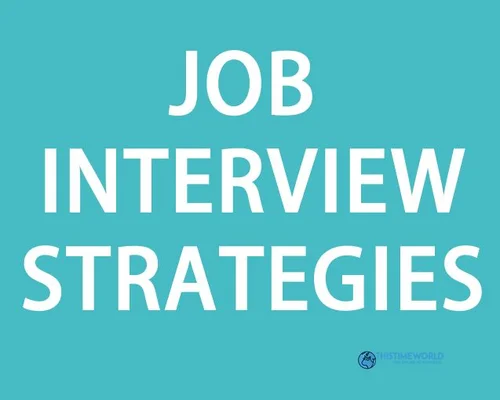 Interview Tips: 12 job Interview Strategies
To prepare yourself for a job interview, it is important to know what to do after entering the interview. Knowing job interview strategies will boost your confidence and morale on the way to success. We hope you find this article about Tips Center Job Interview useful.

What to do after entering the viva room

Job interview strategy

1. You must enter and salute

After entering the Viva room, one has to stand in front of the examiners and salute. If you are not asked to sit, you have to stand for permission for a while and if you are not allowed, you have to sit with permission.
2. Behavior must be elegant

The listener should answer the question calmly after listening well. You have to answer one by one with confidence. Must behave elegantly at all times.
3. Speech must be steady

Be steadfast in your words. Be it holy or unholy. If you cant answer two or three questions, it doesnt matter. However, it is advisable to be firm in determination.
4. Cant be angry

No one should be angry at personal or confidential questions. Will have to answer in the cold head. Because the examiner can ask some questions without looking at the test. Your restraint will reveal your personality.
5. The answer must be clear and simple

The answer must be clear and straightforward. Do not answer any question without listening well. You have to pay close attention to what the questioner is saying and if you have any difficulty in understanding the question, you need to know again politely.
6. Cannot be argued or challenged

You should not argue with your interviewer or challenge him if he is wrong in any of the questions. If you can, explain it logically and indirectly. Do not hinder any member and do not try to prove yourself wise.
7. Dont panic

Dont panic at all. Answer slowly. And don't let him feel even if he's a little nervous inside. Because many are terrified and talk nonsense. It is certainly harmful.
8. It is inappropriate to think of everyone

One should not prove oneself to be omniscient. Answer the questioner politely. Avoid bad habits. There are many bad habits like playing with pencil-pen on the table, dancing in the chair, playing with shirt off. Moreover, to say the same thing over and over again, there is a currency flaw. Such as- means, means, understood what you are thinking, thinking, guessing etc.
9. Use current intelligence

You dont have time to think and answer the oral exam. You need to answer intelligently in a few seconds. In this case, use your current intelligence as much as possible.
10. Answer by looking into the eyes

Answer by looking into the questioners eyes. It is not right to look down. It is better to answer with eyes.
11. Use the right language:

Try to answer using the right words in a timely manner. It is better to keep the answer appropriate, concise and compelling.
12. Be cheerful

Everyone loves a cheerful lake. So it is better to have a smart smile on your face. Cheerful people also enjoy the environment. However, it is not right to laugh and joke with the questioner.
--------
Tags: job interview, job interview tips, interview strategies, interview tips, interview, job interview strategies, interview questions, job interviews, best job interview strategies, how to interview for a job, job interview questions, interview questions and answers, interview advice, last minute job interview tips, job interview strategies and techniques, strategies for a successful job interview, job interview questions and answers, how to answer job interview questions