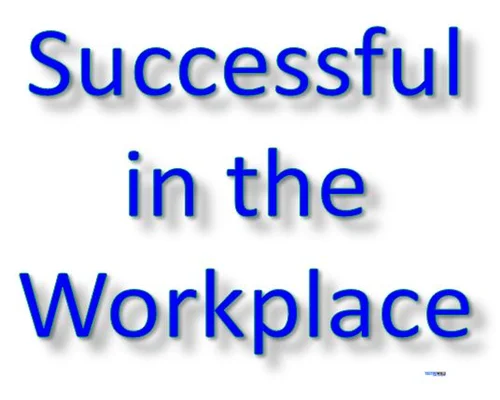 What are the Qualities of a Successful Workplace?
Qualities to be Successful in the Workplace

Qualities to be Successful in the Workplace. If you want to be a skilled worker in the workplace, you have to have that quality

Email etiquette at work

Sender-recipient

When someone sends a mail, I see that they have sent the mail first. So the sender and recipient parts have to be written correctly. If the mail is not personal, use your profession name as much as possible in the sender section. Or you can mention the name of the company. The recipient can easily understand the importance of mail.
Clear content

When writing an email, the first thing that comes to mind is the content of the entire mail, the title line. And if it is not read then the person next to you will get an idea about the detailed message. So the title line must be a summary of a very specific content. It may be that you want to inform a colleague at the next meeting.
Use professional mail address

Professionalism in the workplace can clearly highlight the use of workplace email instead of personal email. When communicating with a client, if you send him mail from your personal mail address, he will have considerable doubts about professional decency. The client will not maintain business contact with any person or organization who has not the slightest idea about sending mail.
Exchange greetings

I usually say hi to a friend or colleague.
So much courtesy for communicating with people you know. But when you send mail to someone with whom you have a business transaction, it is more polite to say: hello to them than to say: hi.
The subtleties of finding a job

Fear works like working with stimuli in the first job search process; Over time, the feeling goes away and the monotonous feeling comes. And at the same time we think we can be prepared enough for any kind of job interview and this is where we usually make mistakes. These mistakes are not only made in our interview board, but also in our CV.
Tell the truth about yourself

Refrain from lying about yourself. It is inappropriate to start a new job with the wrong idea about. Because these lies can work against you in the future and can lead to painful situations. So try to present the truth to yourself.
Talk lively

It is usually important to pay less attention to this topic but it is very important to draw the attention of the interviewers with a positive attitude in the interview. Not the only person in an interview, board members are accustomed to hearing most of what is said in the interview to everyone else which may make them feel a little tired. So you have to be lively and different from others. You can talk about your hobby work, no matter if it is a hobby outside the conventional style. But wherever the interest is, present it in an interesting way.
Be confident

Only through self-confidence can you prove yourself as a worthy person. It is ones responsibility to show goodwill to act. During the interview, stay calm and try to speak in a normal, casual voice so as not to overwhelm the interviewer. Above all, keep yourself free from nervous tension. If possible, keep in mind to talk to someone you know before going to the interview board.
Have a basic knowledge

As embarrassing as it is to not have the right knowledge about the company you want to work for, it is a great insult to the executives of that company. So go to the interview board with as much basic knowledge about the company as possible. Get a good idea of ​​the main goals or features of the office. This way you can prepare yourself and mention the qualities that the officers want to see in the new employees so they will not be reluctant to accept you as their new employee.
If you want to be a skilled worker, you have to have that quality

Every human being is born empty handed. There is no one in this world who is born with extra qualities. People acquire all the qualities after birth. Therefore, one should acquire the necessary qualities to develop oneself as a good person.
Infinite self-confidence: People have been running since birth. Thousands of new things are being discovered. These discoveries are making life easier. Inspired by more new discoveries. Man is the only animal in the world whose self-confidence cannot be compared to any other animal. At one time the fearless hunting tiger also gave up hunting. But man is constantly moving forward to achieve his desired result and at one stage he is able to snatch the flag of victory. And none of this is possible because of peoples deep faith in themselves. People are inspired to live by self-confidence, they are inspired to win something new, to discover something new. So every human being should be confident.
A clear idea about yourself: The record of success of a confident person is very heavy. Because they have a clear idea of ​​what they can afford. They know what they can and cannot do. Self-conscious people always make promises to people within their own boundaries, as well as keep every promise.

Accepting criticism naturally: People are naturally somewhat self-centered. Deep confidence is his innate character. So man cannot allow his own criticism. When someone criticizes him, he becomes aggressive. As a result, the victim loses confidence in himself and the people around him develop a negative attitude towards him. But there are countless people in the world who accept and reject criticism. They also became role models for the people.

Emotion control

If you want to make the right decision, the first condition for you is to control your emotions and give priority to reason. Because emotion affects every decision. It is never possible to make the right decision with emotion.
You are in charge of a human resource management department. You have been given the responsibility of evaluating the officers and employees. Now if you evaluate with emotion, only those officers and employees who have treated you well will be evaluated as good. But judging by reason, those who have worked tirelessly for the betterment of the organization will be judged as good. And so those who make decisions through emotion control are able to prove themselves as good employees to every coworker and organization.
What to do if you get negative reviews at work

Hundreds of attempts but not satisfied with his work. Just why you are in this situation, we are all upset. Which is why so many of us get distracted from our work. Many people misbehave with the boss but is it really right?
Keep an eye on the reviews while keeping the mood right

We have a purpose in life. He has to move forward with the goal in mind. On the way forward, the enemy should be turned into a friend, not uprooted. When the boss gives you negative reviews. Then it is normal for you to be upset. But you should not be angry. If you get negative reviews, you will become negative yourself. Becomes aggressive due to emotion. Then it will be very difficult to get out.
Take time, think and then decide

When we do well but get negative reviews, it becomes very difficult for us to digest. Then the mood is very bad. I think I tore the boss head! But there is no gain in bad mood, there will be loss. Think about it. Blocking the way forward driven by emotion? Or prepare yourself to move forward through emotion control? An expert says, stay calm in this situation. Calm down and say sorry to the boss. Lets see. There must have been something wrong. So tell the boss, these mistakes will not happen again. No need to tell anyone around. Prepare yourself from the silent for the future.
It is also possible to benefit from inspiration

It is also possible to create the mentality of creating new ventures through inspiration. Inspiration increases peoples interest in working with new things, new initiatives and new information. As a result, the possibility of solving new problems also increases. Labor management is essential for the success of any company. Without inspiration most of this labor management work would not be possible. Inspiration enhances peoples ability to consider the financial and non-financial benefits of different knowledge and resources. This protects the interests of both the worker and the owner.
The importance of inspiration is many

Motivation enhances work efficiency. It helps to arouse peoples desire for work. It has to do with human aspirations. Motivation is very important for people to work spontaneously. If employees are motivated by an effort, their work speed increases a lot. Inspiration can create interest and desire for a job. Motivation is also important in preventing wastage of various fields and components of any organization. Inspiring a team to work, it is possible to reach the maximum potential of their work with the speed of the stream. As a result, it is possible to prevent wastage of time and resources at the same time.
Inspiration increases the importance of work

Motivation and interest in work can be increased in the manpower through inspiration. And the ethics of such work play a crucial role in the success of the organization. Motivation leads. In this way the workers become interested in work, concentrating more on work. As a result of paying more attention to work, the production of products also increases. The more the staff concentrates on the work, the more beautiful and conducive environment can be created.
Inspiration increases mental spirits

An important part of the work of any company. This health of the environment will be maintained only when the rest of the elements of that environment work properly. And it requires stimulation, which must be created with inspiration. Work speed increases with manpower consent and financial and non-financial motivation. It allows employees to focus on work. Above all, it accelerates the development of the organization. Satisfaction of public resources increases when carrying out inspirational programs in any organization.
Inspiration teaches to dream

As a result of inspiration, each employee maintains a cooperative attitude towards each other. As a result, they can help each other work and welcome change. As a result, friendship is easily maintained in the management sector. At present almost every organization has to deal with different types of problems and challenges. In that case, if inspiration can be given, then it becomes easier to deal with those challenges and problems. When there is unity among the workers, it is easy to learn anything. And thats why we need inspiration.
--------

Tags: qualities to be successful in the workplace, workplace, understanding personalities in the workplace, professionalism in the workplace, how to be professional in the workplace, managing personality types in the workplace, ethics in the workplace, big five personality traits in the workplace, roles of workplace psychology, professions of the future, work of the future