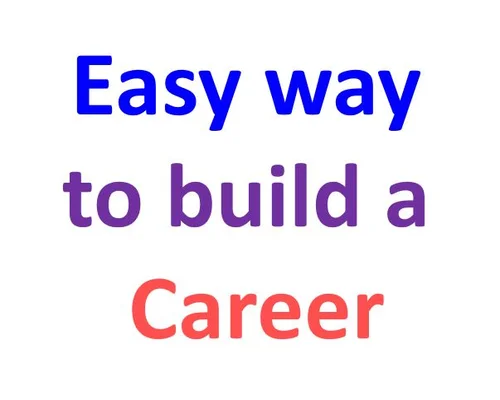 Easy Way to Build a Career
Many people are under a lot of pressure from their profession. Some people are considering, where do I start? In fact, almost everyone has to bear the consequences of a dilemma.

Acknowledging your abilities: Many people are confused about their own abilities. To overcome this, self-assessment is required and in this regard, one should determine ones own position, differentiate ones qualifications and skills. Fantasy or creative mind seems to be lonely. Before thinking about a career, it is important to develop the mindset to stay away from thinking about what you are not capable of. We have to use our self-confidence to see the achievements of others and move forward.
Objective Format: To follow at least one method for building a profession, to set its policy and to fulfill the objectives of its daily existence. Define clear objectives and goals in terms of setting ones own position and developing different career paths.

Long-term arrangements: Long-term planning is one of the means of career development. You should understand the profession that you will do. Which will help illuminate your profession. It will include what you need to do, how you need to do it, when you need to do it, and where you need to see it in a few years. Long-term plans should be appropriate and meaningful; Consistent with scholarship way. This progress will include what you need to do, how you should do it, when you should do it, where you should look in ten years, and much more.

Information retrieval and maximum use of information: There is no viable alternative to information retrieval in professional systems. Despite the classical education, there is a requirement for the education involved. If you think others are smarter than you, your confidence may be shattered.

Legitimate use of time: If you need to do something in life, you need to value time. In the present situation, those who waste their time without proper use of time will have to suffer and they will feel it for the rest of their lives. Many people are involved in extracurricular activities because they are legitimate users of time in life.

This requires proper use of time. You can create opportunities to keep your body and mind strong outside of work. Time is of the essence in studying life. Honestly, if you cant use the time here, the pain of not having the option to use whats left of your life is reasonable.
Focusing on choices: Prioritizing choices is as important as using time wisely. Picking needs or preferences and time may be required to have the option of making the best decision. Many neglect to focus on decision making at different stages of their careers.

Directional requirements may be consistent over time and environmental factors. At the same time there is the issue of character format. Dismissing character development without paying attention can similarly destroy you.

Discovering the need: After some time, the matter of need requests the same very significant. Time and need determining issues work with each other. The way to have the best choice of the perfect opportunity is to pick the demand. Young men and young women often neglect to make the necessary choices. Accordingly, it is now and again impractical for certain individuals to make the best choice in the perfect opportunity or ideal opportunity. Required space can be moved by time. There is no guarantee of a great profession despite having adequate qualifications. All things considered, it is wiser to invest more effort in enduring the current situation. There is no chance of getting frustrated at any stage of life. Dissatisfaction constantly raises a growing suspicion among individuals and raises questions about their own gifts and abilities.

The final word

Effective people are responsible for their own destiny, not the past. People who try to go back in time suffer from a lack of frustration. But there is no chance to forget the past. Create mindfulness. He is the person who is usually aware of ones abilities or interests.
----------

Tags: how to build a career, gta online career builder, here are four easy ways to build a strong career online, career, steps to build your career, build a career vision, how to build a business, build a career in sales and marketing, best way to figure out what career you want, career builder, career build up steps, new career builder, gta 5 career builder