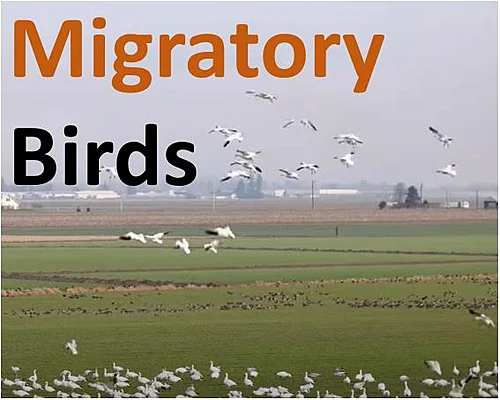 The reason for the arrival of guest Birds
Migratory birds

Birds have a huge advantage. They do not have to cross any customs barrier to migrate. Because, they do not need any passport or visa to go to any country. Besides, they do not have to worry about travel expenses or any kind of checking. And these flying birds are called migratory birds. That is to say, the birds which leave their own country or area at a certain time of the year and go to another country or area for special needs and return to their own area after some time are generally called migratory birds. There are about 5 lakh species of birds in the world. Many of these species migrate to other lands at certain times of the year. There are about 600 species of migratory birds in Europe and Asia alone. About 150 species of these birds visit our country every year. These are what we call guest birds.
Every year, when winter comes, the water bodies, beels, haors and ponds around us are filled with birds of different colors and names. These migratory birds come to spend their winter holidays. But not really for vacation or leisure, these birds come to our country in flocks to save their lives.
Some birds therefore travel 22,000 miles effortlessly every year to distant lands. One species of sea urchin from the North Pole travels this distance to the south every year.
Although the guest birds do not travel that far, they also come from far away. Most of the guest birds come from the snow white Himalayas and the other side of the Himalayas. The most famous of these birds is the Northern Pintail. Also clear water sand duck, khaira chakachki, curlyu, big stork bird, heron, heron, nocturnal heron, great crested grebe, snipe, singer Ren birds (wrens), Rajsarali, Tikihans, Patikut, wild duck (widgeon), small stork (egret),Kharcha Chakachakki, Sarali, Kalokut, Gadwall, Pintail, Marche Rangbhutihihans, Kalam, Gangchil, Nardam Subellar, Common Pochard, Extinct almost Palais Fish Eagle etc. Birds of different colors and voices also include gray and pink swans, sand ducks, lenja, chiti, sarali, ducks, butihans, baikal, nilshir pyang, china, pantamukhi, rangamuri, kalohans, rajans, peribhunjia, chakha Patathi, Jalpipi, Pani Murgi, North. Garia, Patibatan, Commonchil, Cottonchil etc.
The reason for the arrival of guest birds
These exotic guest birds are forced to migrate to other countries due to some natural reasons. This time I am saying why he is forced. What will the birds do in the severe winter! They no longer have sweaters, jackets, blankets, blankets! So they go to a country where winter is a little less than trembling and dying in winter. Where they can spend the whole winter effortlessly without wearing a sweater or any warm clothes. This is the main reason why guest birds go far away. The biggest thing is that there is a severe shortage of food in the temperate areas throughout the winter. This is because temperatures in temperate areas are much lower than zero most of the time. And there is snowfall or blizzard.
So no plant can grow or survive. And how will the animals survive if there are plants! | So when winter comes, birds from the North Pole, Siberia, Europe, some parts of Asia, some parts around the Himalayas flock to the less cold regions.
The mystery of returning to know the path of guest birds
Guest or migratory birds have no compass, map or sextant instrument. But even then, they return home in the spring. But it is very difficult for human beings to travel thousands of miles on land or sea without these devices. Spring time means March-April when the snow in the temperate zone starts melting, some plants start growing. Many animals that have been sleeping all winter start waking up. At such a time, the guest birds return to their homes with the flock. That is another mystery to the people.
Scientists, researchers or ornithologists have long been concerned about this. Researchers say that there is something congenital in the bodies of these birds, such as sea sailors using compasses. Which helps them to recognize directions as they move. They often depend on the position of the sun and stars. Evidence has been found that migratory birds can walk smoothly when stars are seen in the sky on a clear cloudless night.