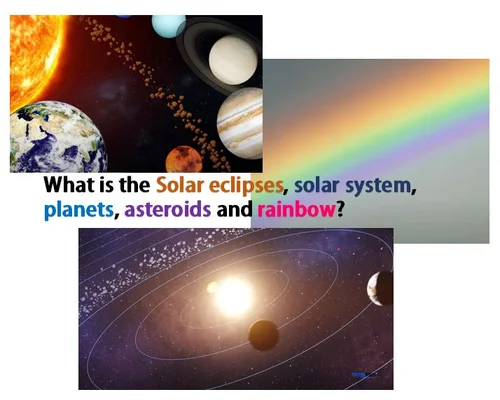 What is the Solar eclipses, solar system, planets, asteroids and rainbow?
Solar eclipse

Basically, eclipse occurs only when the moon comes between the sun and the earth. When there is a complete solar eclipse, the sun sphere is covered by the moon. The upper part of the solar system during this period has a lot of bright clouds. This is the spectrum of the sun. The total eclipse of the sun lasts only a few minutes.

Solar system, planets and asteroids

The solar system refers to all the celestial bodies that rotate counterclockwise around the sun, large and small. It is a small part of the universe. Apart from the Sun, there are eight planets, satellites, asteroids, comets, meteors etc. The eight planets include Mercury, Venus, Earth, Mars, Jupiter, Saturn, Uranus and Neptune according to their distance from the Sun. Each planet orbits the sun in its own orbit. Some planets have their own satellites. Such as our Earth satellites moon.
Rainbow

The rainbow is a scene that is usually painted in seven colors of the color curve along the horizon in the sky after rain. The water droplets in the clouds reflect the color spectrum.