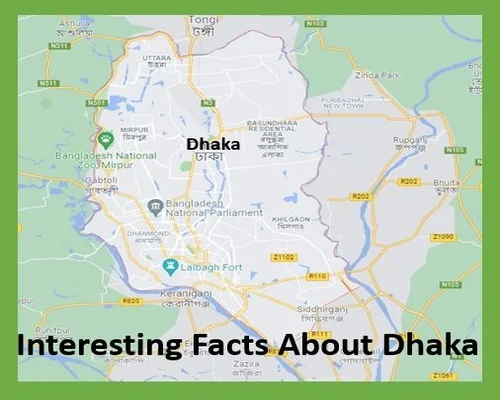 10 Interesting Facts About Dhaka
City of Magic - 10 Interesting Facts About Dhaka

Dhaka is the most populous city in the popular capital of South Asia, Bangladesh. The city is located on the banks of the river Buriganga. The city is made up of national, business, commercial, industrial and school colleges and universities and is located at the center of culture. Dhaka City 308.4 km, the total population of Dhaka is about 21,641,090. Here are some interesting facts about the magic city of Dhaka. Dhaka, the capital of Bangladesh, is geographically located in the heart of the country making it a hub for activities including business, commerce, educational institutions, entertainment, agro-industry and politics. There is some interesting information about Dhaka city which has a rich tradition and numerous localities.

1) By the 18th century, the city was the Mughal capital of Bengal and had many palaces and mosques. Dhaka muslin and cotton industries are famous and have textile spots.

2) Among the popular dishes is Bakarkhani of old Dhaka, traditional snacks are famous for their taste. Haji biryani which is made with cooked rice and goat meat. Informal national water tea and locals drink ginger tea or many milk tea with numerous cups of lemon tea every day. Fuchka, Jhalmuri, Shik Kabab, Moghlai Paratha, Alu Puri are the popular street food in Dhaka. Every afternoon everyone from young boys to girls enjoy these foods from the street shops. Dhaka sweets, milk, food are very popular, people distribute sweets in different occasions.

3) Dhaka is usually called the city of mosques. There are hundreds of mosques with different designs of both modern and historical structures. Every Friday Jummah: Prayers All Muslims pray together in the mosque in congregation. Every Friday, Jumma Day is celebrated differently

4) On March 2, 1971, the red flag was hoisted on the green chest of the national flag of Bangladesh at Dhaka University. The country was ruled by Pakistanis before independence on December 16, 1971.

5) Most of the people living in Dhaka are Muslims and a few percent are Hindus, Buddhists and Christians. The Dhaka Hindu Street Bazaar is characterized by artefacts and classic Indian jewelry. The city has many large buildings and many shopping malls.

6) There are many theories about the naming of Dhaka. The most popular goddess is derived from Dhakeswari. Dhak tree or dhak, may also be named for musical instruments.

7) Dhaka cuisine The main three meals a day are tea or coffee with bread for breakfast and simple curry and rice at noon and night. People living in Dhaka prefer to eat polao meat on Fridays to enjoy the holiday.

8) 90% of the people of Dhaka live in Dhaka to live a modern and advanced life. Most of the people in Dhaka city come from villages to send their sons and daughters to good schools, colleges and varsities. Many also live in Dhaka because of their jobs.

9) The primary seat of the Government of Bangladesh is located in the city of Dhaka. In Dhaka city all the political activities of the country are carried out.

10) Dhaka traffic jam is a normal rule. If you take your car out on the streets of Dhaka, you will have to spend a few hours on the road, if you want, you can finish this five page magazine later.

--------
Tags: facts about dhaka, dhaka facts, dhaka, dhaka city, amazing facts about dhaka, 5 amazing facts about dhaka, dhaka bangladesh, 10 surprising facts about dhaka, dhaka english facts, amazing facts about bangladesh in english, facts about bangladesh, dhaka city facts, 25 facts about dhaka, interesting facts about bangladesh, facts, facts about dhaka city, dhaka city facts, dhaka city tour, views & facts about dhaka city, interesting facts about dhaka