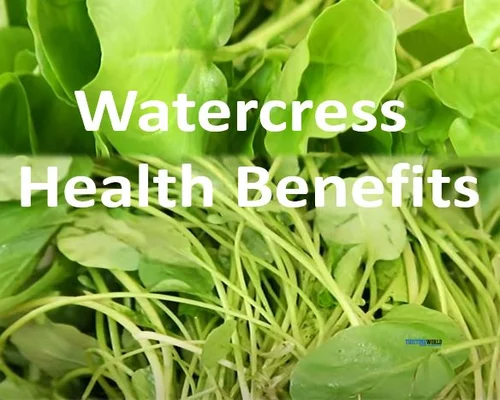 6 Health Benefits of Eating Watercress
Watercress is a species of plant of Brassicaceae. Watercress is one of the oldest vegetables. Watercress is spicy and salty which is served in salads. This vegetable has nutritional value: contains carbs, protein, little fiber, Vitamin A and Vitamin C, Manganese and Calcium, Phosphorus, Iron, Magnesium. There are benefits to playing Watercress. Watercress leafy green which is one of the strongest oldest vegetables. Watercress has small, round leaves and stalks that have a spicy smell.

Watercress health benefits

Prevents cancer
Watercress prevents cancer-causing harmful molecules from growing in cells, which also helps prevent cancer. Glucosinolates of watercress also prevent tumors. Watercress also reduces the risk of cancer and some other diseases including diabetes.
Keeps the heart well
Watercress reduces the risk of stroke. Watercress also helps keep the heart healthy. Playing watercress regularly reduces the risk of heart disease. Eating watercress regularly increases immunity.
The bones are strong
Watercress contains calcium, manganese, potassium and phosphorus which help in building strong bones. Eating watercress regularly will fill your calcium deficiency. Calcium improves bone health and strengthens bones.
Helps to prevent infection
The presence of vitamin C in watercress helps to prevent infectious diseases. Vitamin C in watercress also helps prevent colds and coughs. Watercress contains nitrates which increase the amount of nitric acid in the blood. As a result, blood pressure decreases. Watercress juice is very effective in flu-like conditions. Watercress helps fight bacteria.
Supports against anemia
Watercress contains iron which is required for the production of hemoglobin in the blood. Vitamin C in watercress is great in the fight against anemia. The antioxidants and minerals in watercress juice can be compared to a superfood. Watercress helps the body synthesize blood. Vitamin C helps the body absorb iron.
Clean the lever
Watercress juice purifies the liver and supports the removal of toxins from the liver. Two cups of watercress water is recommended to be taken on an empty stomach for liver cleansing.
Watercress side effects
There will be side effects if you drink too much watercress water.
Watercress may have diuretic effects. It can increase the amount of lithium in the body.
How to make watercress juice
Watercress leaves contain natural antioxidants that promote cell regeneration. Watercress juice is easy to make.
2 watercress sticks,
A green apple.
And a glass of water.
Then combine all the ingredients in a blender and blend.
Drink on an empty stomach.
-------
tags-watercress side effects,
watercress benefits for skin,
watercress benefits and side effects,
watercress benefits for liver,
watercress benefits for hair,
watercress benefits for lungs,
how to eat watercress,
is watercress safe to eat