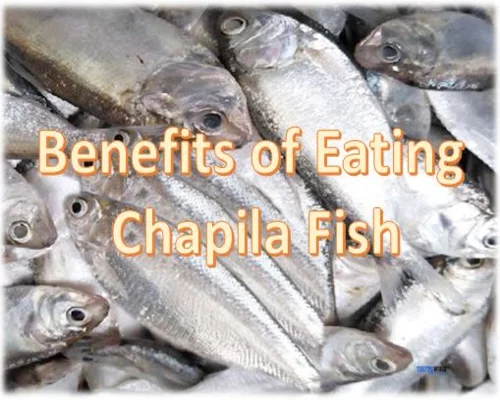 Benefits of Eating Chapila Fish With Recipe
Chapila is a small flatfish in the Clupeidae family. Looks like hilsa fish. Chapila fish is very nutritious. Chapila fish can be eaten with a fork which is rich in calcium. In that case, those who are deficient in calcium should eat Chapila fish. Chapila fish is more delicious to eat.

Chapila fish is better in taste and quality. There is no comparison of chapila fish in nutritional quality. Chapila is a delicious fish.
Chapila fish is rich in - calcium, vitamins, phosphorus, iron. Iron which is more essential in anemia.

Chapila fish is an easy way to cure arthritis pain. Biological calcium in Chapila fish is very beneficial.
Let us know Chapila fish recipe.

Ingredients:

Chapila fish – 500 grams
Data – 1/2 kg (cut lengthwise)
Onion paste – 1 tbsp
Garlic paste – 1/3 tsp
Ginger paste – 1/3 tsp
Turmeric powder – 1/3 tsp
Chilli powder – 1/2 tsp
Cumin paste – 1/3 tsp
Salt – according to quantity
Oil – like quantity
Procedure:

Mix all the ingredients together including the fish in a pan.
Now add water as per quantity.
Add broth as desired and reduce.
-------
tags-chapila fish cutting, chapila fish, small fresh chapila fish health benefit