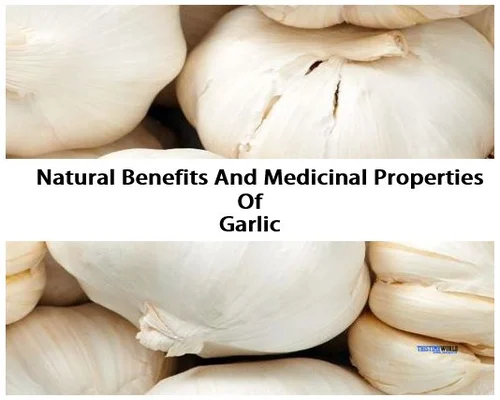 Natural Benefits and Medicinal Properties of Garlic
Garlic (Allium sativum)

Description

Garlic has been cultivated since ages. At various times it has been described as food, herb, antiseptic, beautifying agent and magical antidote for energy. Garlic is an important pickled crop. It is an erect and biennial plant. It has adventitious roots, compressed and flattened stems and narrow leaves. The cloves are covered with a white, shiny and transparent coating.
Origin and spread

Garlic is believed to have originated in Central Asia. Garlic was also grown and used for various purposes in ancient China, Egypt, Greece and Rome. Currently it is cultivated in many countries of the world.
Food quality

Garlic has been used for good health for a long time all over the world. Garlic is used to treat infectious diseases, especially disorders of the alimentary canal.
Minerals and Vitamins: Iodine, Sulphur, Chlorine, Calcium, Protein, Phosphorus, Fat, Iron, Vitamin C, Fiber, carbohydrates.
Natural Benefits and Medicinal Properties of Garlic

Herbal treatment
Garlic has been traditionally used in herbal medicine, such as asthma, deafness, leprosy, bronchial congestion, arteriosclerosis, fever, worms, gallstones. It cures heart disease, leucoderma, piles and increases appetite. Sulfur compounds are responsible for garlic unpleasant smell. It contains a volatile oil, called allyl sulfate, and its medicinal value largely depends on it. When applied externally, garlic is quickly absorbed by the skin and penetrates deep into the skin. It removes toxins from the body, purifies the blood, increases blood circulation and promotes the growth of beneficial bacteria in the gut. The ether in garlic juice helps to dissolve the mucus accumulated in the sinus cavity (including the bronchial tubes and lungs). Garlic also helps to remove toxins from the skin pores.
Chest disease

Garlic works very well against several chest diseases. Garlic is used in tuberculosis. It is also effective in pneumonia. Garlic is also used externally on the chest. In the treatment of tuberculosis in Ayurveda, hot milk with garlic decoction is recommended. One gram of garlic is mixed with 250 ml of milk and 1 liter of water and boiled until one-fourth of the kath remains. It should be taken thrice daily.
Asthma

Asthma patients should boil three cloves of garlic in milk every night. A few cloves of garlic are boiled in 150 milliliters of pure malt-vinegar. It is cooled and strained and mixed with equal amount of honey and kept in a bottle. A spoonful or two of this syrup mixed with fenugreek decoction and taken every evening reduces the severity of asthma.
Diseases of the alimentary canal

Garlic is an important beneficial food for digestive disorders. It has a beneficial effect on the lymph and helps remove toxins from the body. It stimulates peristaltic action and increases secretion of digestive juices. Fresh garlic or garlic capsules are used to treat colitis and dysentery. Instead of harming the beneficial bacteria in the gut, garlic kills the harmful bacteria.
High blood pressure

Garlic is very effective in lowering high blood pressure and normalizing it. It slows the pulse and causes changes in heart rate. In addition, garlic relieves drowsiness, normalizes frequent breathing and prevents the formation of gas in the alimentary canal.
Rheumatism

Garlic is widely used in the treatment of rheumatism. Garlic has anti-inflammatory properties that help with various types of arthritis. Apart from eating, rubbing garlic on the painful area can also be beneficial. Garlic oil is quickly absorbed through the skin and reaches the site of pain quickly through the bloodstream.
Heart attack

Experiments have shown that garlic prevents heart attacks. Garlic helps break down cholesterol in blood vessels and therefore prevents hardening of blood vessels. It does not cause high blood pressure and heart attack.
Skin disease

Garlic is used in various skin diseases. Rubbing raw garlic a few times a day heals acne and leaves no scars. Garlic is also used externally to clear boils and blackheads. Again, eating garlic also cleanses the blood and increases the glow of the skin.
Wounds and ulcers

Garlic acts as an antiseptic on wounds and ulcers. Three times the amount of garlic juice mixed with water is used as a lotion to clean infected wounds. It also reduces pain in the short term.
Diphtheria

Garlic is a very good medicine for diphtheria. Consuming one clove of garlic at a time removes jhilpi, lowers temperature and relaxes the patient. A diphtheria patient has no sense of taste and smell, so he only feels the smell of garlic.
Whooping cough

Garlic works well in curing whooping cough. In this condition, a few drops to a teaspoon of garlic syrup should be fed 2 times a day. However, if the condition worsens, more frequent feedings can be done.
Sexual weakness

Garlic is a natural and harmless aphrodisiac. So it is effectively used in sexual impotence.
--------
tags-benefits of garlic, health benefits of garlic, garlic benefits, garlic health benefits, garlic, benefits of eating garlic, garlic and honey, raw garlic benefits, benefits of eating raw garlic, garlic benefits for health, benefits of raw garlic, what are the benefits of eating garlic, benefits of honey and garlic, garlic and honey benefits, uses of garlic, benefit of honey and garlic, benefits of eating garlic everyday, the benefits of garlic in the body