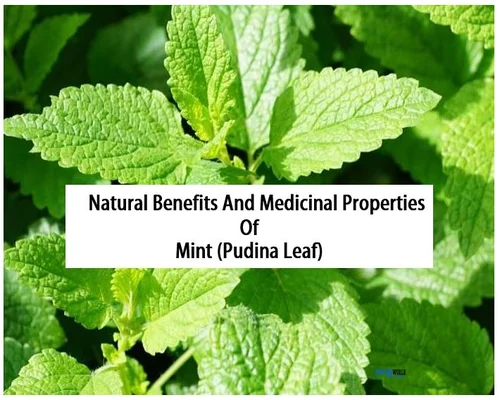 Natural Benefits and Medicinal Properties of Mint (Pudina Leaf)
Mint (Mentha spicata)

Description
Mint is a popular spice and is widely used in cooking in the Indian subcontinent. It is an erect, branched, perennial herb. The beetop, which emerges from its underground metamorphosed stem, leaves are ovate, simple, thin, dark green and fragrant. Stem quadrangular.

Origin and spread

Mint is a plant native to temperate Europe. Ancient Greeks and Romans knew about this plant. Ancient Greek physicians used mint to make carminatives. Presently mint has been introduced in all countries of the world.
Food quality

Mint contains sufficient amount of vitamins and some minerals as well. It is rich in fried and dried mint leaves used in making sauces, jellies and flavored foods. Peppermint oil is used to make chewing gum, toothpaste, bakery products and medicine.
Minerals and Vitamins: Contains calcium, protein, phosphorus, fat, iron, vitamin C, fiber, carbohydrates, vitamin D and E.

Natural Benefits and Medicinal Properties of Mint/Pudina Leaf
Increases the efficiency of the stomach

Mint is valuable as an expectorant and cures stomach discomfort and spasms and increases appetite by increasing stomach function. Mint acts as an ingredient in most of the medicines used for upset stomach. It is good for the liver and dissolves kidney and bladder stones.
Nutritional disorders

Mint juice increases appetite considerably. Juice of fresh mint leaves with a teaspoon of lemon juice with honey three times a day works very well in indigestion, biliousness, flatulence, colic, tapeworms, morning sickness and summer diarrhoea. Drinking mint leaves juice mixed with hot milk or tea cures stomach ache. Peppermint seeds also work well for stomach aches for indigestion, especially in young boys. In this condition, they are asked to chew one-fourth teaspoon of seeds and swallow them with water.
Respiratory disorders

Mix one teaspoon of fresh mint juice with two teaspoons of pure malt vinegar and an equal amount of honey, four ounces of carrot juice, three times a day. As a tonic for the treatment of tuberculosis, asthma and bronchitis. It liquefies mucus, nourishes the lungs and strengthens the body immunity against infection. It prevents asthma attacks and reduces airway congestion.
Oral disturbances

Fresh mint leaves chewed daily make an effective antiseptic toothpaste with antiseptic chemicals like chlorophyll that kills odor-causing bacteria. It strengthens the gums by providing essential nutrients, thus preventing tooth decay, pyorrhea, premature teething etc. It freshens the mouth and improves the sense of taste on the tongue.
Intonation

A kulkucha (gargle) mixed with salt mixed with fresh mint leaves can help when the voice breaks due to loud shouting or singing.
Skin disease

Applying fresh mint juice on the face every night cures acne and prevents dry skin. Mint juice should be applied in eczema, scabies and dermatitis.
Natural birth control

In Ayurveda, dry mint powder is considered as a birth control herb. It is believed that a woman who swallows 10 grams of this powder shortly before intercourse will not become pregnant as long as she continues to do so. Mint should be dried in a shaded place and then crushed and bottled.
-------
tags-pudina leaf benefits, pudina leaves benefits, how to use mint leaves, how to use mint leaves