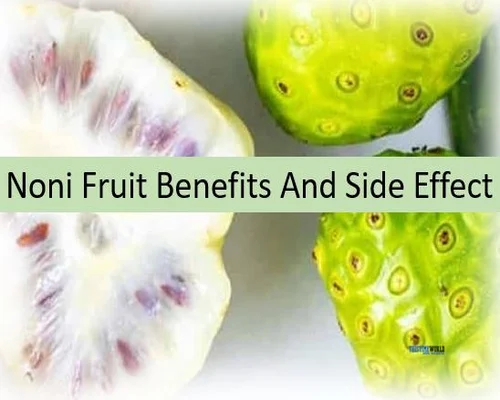 Noni Fruit Benefits and Side Effects
Noni Fruit Benefits
Inside the Noni fruit, there is white flesh and inside there are many black, edible seeds. Nani fruit juice can be consumed. Nani fruit is a nutritional source of potassium, linoleic, amino acids, vitamins C, A, and phytonutrients.

Benefits of Noni Fruit

Noni fruit juice keeps various diseases at bay, as the anti-inflammatory properties in it boost the body immune system manifold.
Noni fruit can increase physical endurance
Inhibits glycation of proteins
Helps in weight management
Helps maintain blood pressure
May improve gum health
Improves skin tone and elasticity
Noni fruit helps in treating diabetes, arthritis, inflammation, tumors, aging effects and bacterial diseases
Side effects of Noni fruit

Side effects of drinking noni fruit juice daily include:
Diarrhea, acute hepatitis, liver toxicity.
Do not drink noni fruit juice if you have kidney problems.
Noni fruit is rich in potassium. As a result, potassium levels in the blood may increase.
Noni fruit has been linked to liver damage.
------
tags- noni fruit benefits, noni juice benefits for skin, noni fruits health benefit of english, noni fruit side effect