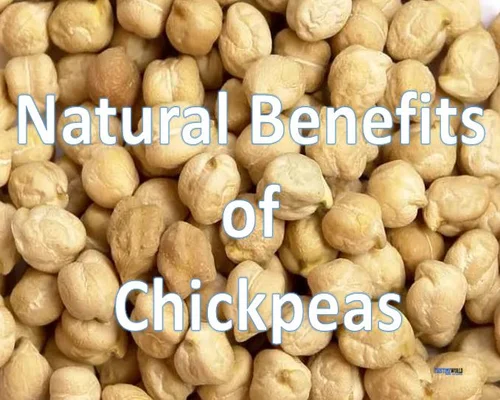 Natural Benefits of Chickpeas (Cicer arietinum)
Chickpea (Cicer arietinum) Benefits

Description

Chickpea is an important pulse crop. Its seeds are eaten roasted, or cooked and eaten as pulses. It is also known as boot.
Origin and spread

Chickpeas are believed to have originated in Western Asia. Before long it spread to India and Europe. It was also known to the ancient Egyptians, Hebrews and Greeks. Chickpea is cultivated in India, Bangladesh, Pakistan, Egypt, Mediterranean countries, Ethiopia, South America and tropical Australia.
Whole chickpea seeds are eaten cooked or boiled. It can be soaked in water and eaten raw. For use as pulses, the seeds are sprinkled with water and left overnight to soften the husks, then dried before being sent to mills. Gram flour is made by grinding the seeds. Different types of dishes can be prepared with this gram flour. Green fruits and young beetroot are eaten as vegetables.

Food Value: Water, Minerals and Vitamins Calcium-202 mg, Protein-9.5, Phosphorus-312 mg

Fat - 0.0, Iron - 10.2 mg, Minerals - 3 mg, Fiber - 3.9, Carbohydrate - 59.8 (per 100 g serving) and a small amount of Vitamin B complex.
Natural benefits and healing properties of chickpeas

Chickpea has many medicinal properties. Chickpeas soaked in water overnight and chewed with honey the next morning act as a tonic. Sprouted gram seeds provide adequate amounts of vitamin B complex and vitamin C.
Cooked sprouted chickpea seeds are good food for children and adults. However, consuming large amounts of chickpeas is indigestible and can lead to urinary stones due to its high oxalic acid content.
Diabetes

The test results showed that chickpea aqueous extract accelerated glucose utilization in both diabetic and normal subjects. So this extract is beneficial for diabetic patient.
Anemia

Fresh juice of chickpea leaves is a good source of iron. Hence, it works well in the treatment of iron-deficiency anemia. In this condition, one tablespoon of fresh juice should be mixed with honey.
Diseases of the digestive system

Chickpea contains 94% malic acid and 6% oxalic acid, which is used as medicine. It is a good medicine for indigestion, vomiting, diarrhea and dysentery.
Painful menstruation

Soaking whole chickpea plant in hot water and bathing in that water is very beneficial in painful menstruation. It can be taken as a sit steam bath.
Skin and hair diseases

Unroasted chickpea seed powder is a very good cleansing agent and brightens the skin like a cosmetic when applied regularly. Cleansing the skin with this powder is beneficial for eczema, dermatitis and scabies. It can also be used effectively in acne. Mix curd with this powder to make a paste. Apply this paste on the face. It should be washed off after some time.
Sexual impotence

Roasted chickpea powder is very nutritious food and works very well in treating impotence and premature ejaculation. For better results mix two tablespoons of chickpea powder with sugar, date powder and skimmed milk. Store in an airtight container and consume as needed.
------
tags-chickpeas nutrition, chickpeas benefits, boiled chickpeas nutrition, chickpeas nutrition facts