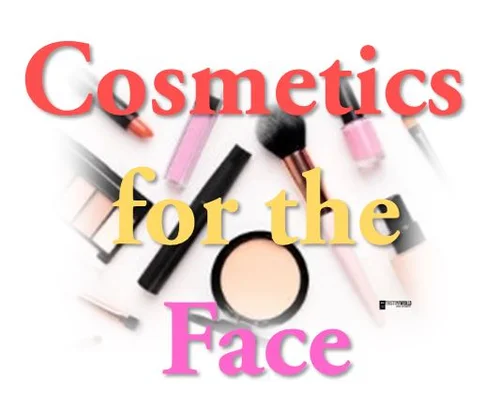 Cosmetics for the Face Skin Care
Different types of cosmetics are used to make the face beautiful and attractive, it is called facial cosmetics. Although the use of foundation cream on the face can cover the scars or various spots well, the use of facial cosmetics can bring natural and natural beauty to the face. Facial cosmetics can be used to change the color of the face or to give a better shape to various cut spots etc. But it requires proper knowledge and experience. Methods used for facial cosmetics include powder, blush, rose, browsing jelly, undercover cream etc.
Facial Powder: It can be used to eliminate facial color inconsistencies. It can control facial oil and smooth skin. In fact, facial powders are used after moisturizers, which serve as a base in powder form. Although the use of liquid foundation is more than that of powder foundation, powder can work great for facial users especially those who want to put oil on their face in controlled condition. To use, first use the right moisturizer according to the skin type. Then after drying, clean facial powder should be used. Nowadays transparent facials are more popular. Most transparent powders are available in loose or open packets and come with an attractive brush or puff. Those who have dry facial skin should not use facial powder. Because if you use it, the skin will become dry. It is only used for oily skin.
Facial Blush & Rouge: Cosmetic companies have started using this facial blush and rouge because of their red glow, elegance and elegance. For these reasons, the color of the cheeks became attractive. Red cheeks can be a sign of some inflammatory skin diseases. But this color of cheeks is being used again in the stage of modern fashion. Blush and Rouge are two synonyms, but Blush refers to powder condition and Rouge cream condition. You can blush on any foundation with powder blush. But cream rouge can remove oil-free or less oily foundation. And if face cream powder is used, it cannot be used well.
Facial Bronze and Color Wash: There are many types of gels for facial color. If used only for cheek color, it is called gel rouge and if used for full face, it is called braze gel. Gel Rouge is available in two shades, red and orange. And bronze gel is available as a brown color. These include water, light Easter, etc. They need to be spread out and used very quickly as they dry quickly There is another type of cosmetic, namely color wash. However, these cannot be used in foundation or powder. These are beneficial for those whose skin is dry. Some cosmetics companies are again marketing Braze Gel for men use.
While all of these cosmetics used for beauty treatments can be used by everyone and sadly for those who have acne problems on the face, using the right cosmetics is really a challenge for dermatologists. People with acne are more likely to worry about cosmetics because they are aware of it. Facial foundation etc are all oily, so using them will make acne worse. However, they can use facial powder. Because they can absorb oil. Transparent powder is excellent in this case. Acne patients should avoid all oily face creams. Acne will increase due to the presence of oil.
----------
Tags: cosmetics, skincare products for, cosmetics care tips for face, cosmetic chemist, skincare for sensitive skin, skincare for combination skin, skincare for glowy skin, beauty tips for girls, how to do makeup for beginners, skincare tips