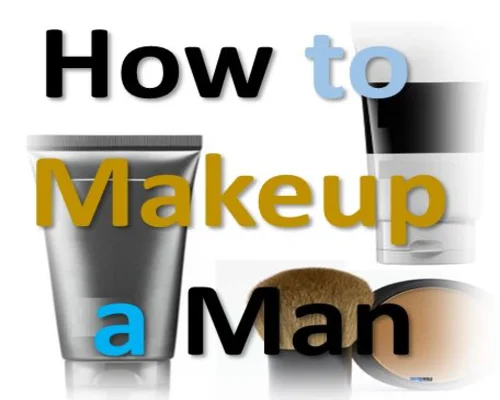 How to Makeup a Man
Cosmetics for men: Although the use of cosmetics has increased nowadays due to the cultural needs of different cultures, the use of cosmetics by men is still more limited than that of girls. Dermatologists are currently playing an important role in changing the way men look at cosmetics. Men cosmetics or cosmetics are first used in shaving products and hair lotions. After Shave Balm, Emulson & Gel, Audi Tempet & Audi Colon are all cosmetics specially made for men. Moreover, deodorants, various bath preparations, shower gels are also quite popular. These are, of course, attempts by fashion-conscious men to attract men using words such as liveliness, wellness, proximity to nature, and so on.

There are traditional differences between men and women in making cosmetics. There are also differences in the use of cosmetics in the two groups. Men want to be healthy and feel good using them and girls want to be healthy and beautiful. Men use cosmetics for their skin needs, such as shaving, cleansing and skin care. But there are exceptions. Some men who are concerned about aging become interested in using cosmetics to reduce the appearance of aging. There are five types of cosmetics for men:
1) Perfume (toilet water and Audi Colon) or perfume, 2) Shaving cosmetics, 3) Washing products, 4) Hair products and 5) Miscellaneous.
1) Toilet water and odicolon: Men use these for different purposes. Objectives include creating one own personality, connecting with others, creating liveliness and affection in oneself, and the desire to be clean.
2) Shaving products: These include
(A) Pre-shaving cosmetics: It makes it easy to shave. This is because the razor blade is used to shave the beard and skin before running. The purpose of wet shaving is to soften the beard using water - so the use of blades reduces the beard resistance and makes it less likely to cut. Soap used for shaving but similar to ordinary soap, which can be used for washing face. These are more oily. Shaving cream is specially formulated for dry and sensitive skin. They have good lubricating ability. Shaving foam cream plus soap emulsion contains 40-50% fatty acids.
(B) After Shave: Using after shave lotion and light warm towel removes the remnants of shaving cream and relaxes the skin. Many times the skin can be cut while shaving, in which case the use of alum is very beneficial. Elam closes the pores of the skin, reduces inflammation, stops bleeding and also gives some fragrance. Basically these lotions have antiseptic effects, especially after shaving should not cause any discomfort.
2) Hair morning includes shampoo, after shampoo and hair setting gel. Moreover, there are different colors for artificial hair color.
3) Washing products: Nowadays, men are feeling the need to take care of their skin to look beautiful, retain youth, maintain athletic and masculine image. Healthcare products include soaps, bar soaps, cleansers, bubble baths, bath creams, bath salts and more.
4) Miscellaneous cosmetics: These include anti-perspirant perfume for excess sweat and shower gel to reduce skin dryness. Awareness about skin and body care has been created among men nowadays to bring vitality to the body and mind, to enhance the personality. As a result, the demand for men cosmetics is increasing day by day. So nowadays the combination of cosmetics used for men in different cosmetic shops is also quite eye-catching.
-------
Tags: makeup, makeup for men, mens makeup, natural makeup, male makeup, makeup tutorial, men makeup, mens makeup tutorial, makeup for beginners, easy makeup for men, mens everyday makeup, everyday makeup, easy makeup, easy makeup tutorial, mens easy makeup, how to makeup, rihanna makeup, mens natural makeup, natural makeup for men, no makeup, mens makeup for beginners, men and makeup, boy makeup, male makeup tutorial