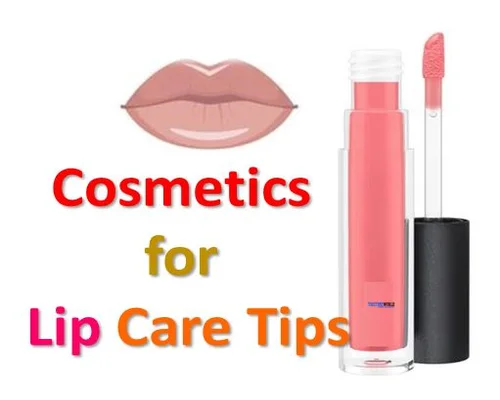 Cosmetics for Lip Care Tips
The use of cosmetics in lip care is undeniable. It is undeniable that the use of cosmetics not only makes the lips more attractive, but also various cosmetics protect the lips from dryness and bring moisture to the lips. Moreover, it can protect the lips from the harmful effects of the sun ultraviolet rays and can also act as a lip sunscreen. On the other hand, using different types of cosmetics on the lips can cover any congenital defects or abnormalities caused by various inconsistencies or operations on the lips. But in order to properly implement all these functions, proper cosmetics should be applied and used on the lips. Otherwise, the desired result may not be.

There are different types of cosmetics for lip use. Such as: lipstick, lip cream, glossspot, lip liner, lip sealer etc.
Lipstick:
Women who are unfamiliar with the most used cosmetic lipstick for lip care probably will not find it. It contains a mixture of oil, wax and grease of a color bar, which is rolled inside the tube. There is another type of lipstick called Lip Carion. It stays inside the wood and can be cut like a pencil with a sharpener. To color the lips, a colored coating or colored stain is applied and it is done with lipstick. There are different types of lipsticks and they contain different chemicals. Before choosing and using the right lipstick, lipstick should be used to ensure the sensitivity of the lips, side effects, etc. Because some people may be allergic to lipstick. Eczema can also cause contact dermatitis. Therefore, they should be used with caution.
Lip Cream and Glossspot:

The difference between these lipsticks is that they are packaged in small jars and applied to the lips with the help of fingers. Creams are made with less wax but more oil. Lipcream has both color and texture. On the other hand, transparent color can be done with glossspots on the lips. As well as perfumes and fragrances. The main purpose of using both types of cosmetics is to brighten the lips but the problem is that they can be used on the lips for a short time.
Since lip creams and oils are mostly used in glossspots, the problem is that bleeding can occur if there are any cracks around the edges of the lips, so it is not suitable for dry and aged lips. Also for those whose skin is oily due to excess oil
Problems may arise. That is why lip creams and glossspots are so popular among young people.
Lip-liners:
These are placed inside a thin bar made of wood or an automatic pelli type haver. The result of all this. Similar to stain-free lipstick, but the wax used is relatively hard, as well as mineral oil. It can be used to create a dense color coating on the lips. Lip liner can be used to express the outer edge of the lips, moreover, lip liner is also important for maintaining the normal structure of the lips. Lip liner can be used to protect the lips from cracking by applying a thick wax coating.
Use of lip tattoos:
In this process, various diseases of the lips such as whitening or white spots on the lips are tattooed using dyes. It must be used by a dermatologist or plastic surgeon. The dye is used to pierce lips with specially designed needles. This process makes a significant contribution to adjusting the opposite lip, creating conditions for permanent application of lipstick, adjusting the upper lip line in inflammatory lip disease. This procedure should not be approved for women. Because women who are thirsty for fashion variety will lose their uniqueness if they use different colored lipsticks. Definitely suitable for men. Because they are not victims of fashion diversity.

Lip Sealant: In terms of effectiveness, these are like eye shadow sitting creams. Because both types make the skin suitable for cosmetic use. Its use can stop bleeding in the lips and help to keep the lip cosmetics in the right position. These include water, talc, glycerin, wax, mineral oil and dimethicone. This cream can be used as a lipstick or with the help of fingers. After application it is dried and then colored cosmetics are applied on the lips. Facial foundation can also be used as a lip balm.

Lip cosmetics for acne sufferers:
Cosmetics for acne sufferers should be used with caution. Cosmetics that use less oil should be used. Because it will be less prone to acne around the lips. Lip creams and glossy stains should be avoided as they contain too much oil. Lipstick and lip carion can be used instead. Lip liner and lip carion can be used to cover the lips of these patients for a long time.

Lip cosmetics for adults:
Lip cosmetics can easily be applied to pale facial cosmetics. This requires a little skill. Lip cosmetics are quite popular among adults. However, in the case of adults, the use of lip cosmetics can cause fine wrinkles on both the upper and lower parts of the lips, which can lead to bleeding in the lips. Older women also use moisturizing lipstick on dry lips, resulting in bleeding from the lipstick. The following methods can be used to stop this type of lip bleeding:

Apply lip sealant or facial foundation on the lips first, then use a strong lip liner and avoid oily lipstick or lip cream. All lipsticks contain some moisturizers. Older women prefer to use lip cosmetics to cover their lip burn marks, inflammation etc. The advice for them is to use darker colors than lighter ones. Lipstick containing titanium dioxide is lip cream or lip balm will work better than Carrion. Extra facial work using facial foundation containing titanium dioxide have to pay.
Use the right cosmetics on the lips:
Abnormalities due to congenital lips or surgery can be covered by applying the right cosmetics. For those who have thin lips, draw a lip boundary with lip liner on the upper border of the upper lip called vermilion border and then fill the boundary with colored lipstick. Even thinner lips or thinner lips can be thickened with lipstick outside the vermilion edge. On the other hand, congenital thick lips can be adjusted using lipstick on the inside of the vermilion edge.

-----
tags-lip care, lip care routine, lip balm, lip care for dry lips, lip care tips, skin care, my lip care routine, best lip balm, em cosmetics lip cloud, lip, lip balm review, lip balm for dry lips, cosmetics, dr dray lip care, lip care products, lip balms, lip balm collection, lip gloss, lip care tutorial, best lip balm for dry lips, lip care at home, my lip care, fresh sugar lip balm, lip balm addict, korean lip care routine, best lip care, drugstore lip care