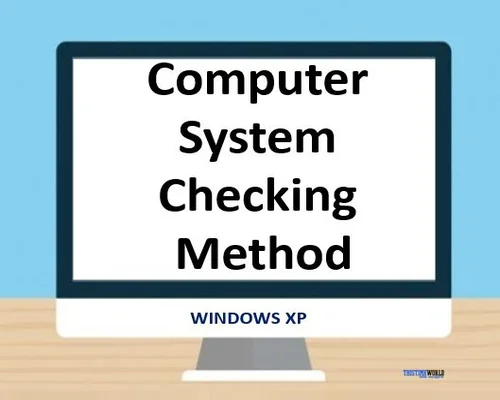 Computer System Checking Method
There are some virus software- which remain hidden for some time after entering the computer through any medium. Then it attacks the system software. These viruses can wreak havoc on entire computer systems. It can even corrupt files on other drives on your computer. Moreover, it destroys the executable files of various software installed and wastes the running power of the software. As a result, you will not be able to run the software properly. Although you can run - the files created in the software to save and be difficult. This software can crash the entire hard disk in this way.

This virus software destroys the Folder Options so that you cant find it just by entering the computer. So that you do not get the hidden file with his help. So do the following to check if your computer is infected with this type of virus.
- Open My Computer
- Click the Tools menu from the menu bar at the top of the dialog box that appears next.
- Check from the list of menu commands that appear next to the menu command called Folder Options. See the image below, where the main command is marked.
- If the Folder Options menu command is not present in the list, then it should be understood that your computer is going to face a big shock very soon. This means that the virus software created by a clever programmer has entered the computer without your knowledge.
In this case, you need to get rid of the virus from your computer as soon as possible. Generally, this requires formatting the C: drive or startup drive on the hard disk and installing Windows anew. Then everything will be fine as before. However, this method is quite time consuming and troublesome.

Timely because you have to spend at least an hour to reinstall Windows from start to finish. In some cases this amount may be longer. And when you reinstall Windows, the loss of electricity is a very complex issue. Because it hinders the complete formation of the system. So you have to choose a time when the chances of electricity going out are very low or non-existent.

The problem is that using this method will eradicate the virus and you will have to reinstall all the software. Even install hardware, graphics cards, sound cards, TV cards, modems, etc. on your computer separately.

Have to.
For this reason, you can restore the system of the computer by leaving the Windows reinstall method as the last tool. This method means that your computer is seeing flaws today. But remember, the last few days your computer must not be as flawed as it is now. So by adopting this system restore method you can get the computer setup of those last few days ago. This is not the way to go back to a day in the past by using a time machine.
--------

Tags: computer, operating system, computer basics, basic computer skills, how to check your computer information with 4 easy method, computer repairing, basic computer course, system restore, windows 10 system check, system file checker, computer checks, system file check, check dead computer, checking, starting a computer for the first time, basic computer knowledge, how to switch on the computer