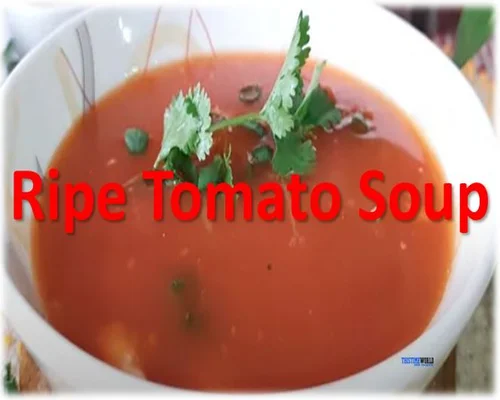 Ripe Tomato Soup Recipe
Adding tomato soup to any hot food tastes like nectar. The hot soup is ahead in terms of taste. Ripe tomato soup can be made with a few ingredients in a simple process.

What you need to make tomato soup-
5 large ripe tomatoes.
1 red capsicum.
Four cloves of garlic.
1/4 cup olive oil.
1/4 teaspoon black pepper powder.
One teaspoon of coriander powder.
1 teaspoon ghee.
2 bay leaves
One teaspoon fenugreek.
One teaspoon cumin powder.
Salt to taste.
How To Make Tomato Soup-
Tomatoes and capsicum should be sliced ​​into thick slices and garlic should be crushed.
Sprinkle olive oil and salt on tomatoes, capsicum and garlic and bake for 30 minutes on low heat.
Once baked, wait for it to cool.
When it cools down, blend in a blender to make a thick and smooth paste.
Then heat ghee in a pan over medium heat, lightly fry it with bay leaves and fenugreek and put tomato paste on it.
Lightly stir and spread cumin powder, coriander powder, black pepper powder and salt to taste and cook for 5 minutes.
When it becomes soup, you have to lower it and serve it with coriander leaves
------
tags-ripe tomato soup recipe, best tomato soup recipe, tomato soup with fresh tomatoes, best tomato soup recipe, healthy tomato soup recipe, roasted tomato soup recipe, creamy tomato soup recipe, best tomato soup recipe without cream, tomato soup recipe, fresh tomato soup recipe