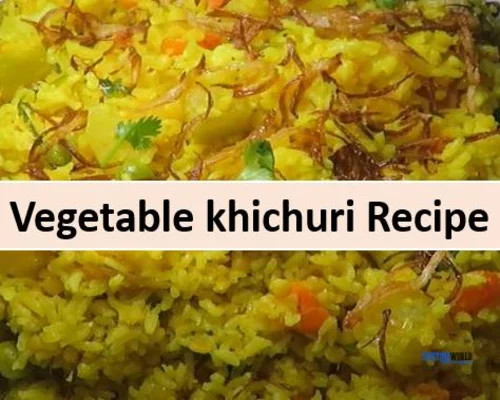 Vegetable khichuri Recipe
Vegetable khichuri Recipe
Materials needed
* Polao rice- 2 cups
* Moong dal- 2 cups
* Cauliflower- 1 (small)
* Potato- 2
* Peas - 1 cup
* Oil- half a cup
* Turmeric-1 teaspoon
* Raw chili-3
* Coriander powder-1 teaspoon
* Cumin powder - half teaspoon
* Chilli powder-1 teaspoon
* Garam masala powder- 1 teaspoon
* Sugar- 1 teaspoon
* Salt- like quantity
* Water- 8 cups
* Shahi Jeera- half a cup
* Ginger paste-1 teaspoon
* Garlic paste- 1 teaspoon
* Chopped Onion - 2 pcs
* Tej leaves - 2
Continuous method of cooking
First fry mung dal, mix rice and dal and add turmeric, cumin powder, chilli powder, coriander powder in a bowl.
And mix garam masala powder.
Now heat oil in a pan.
When the oil is hot, stir it for a while with chopped onion, shahi jeera, bay leaves.
Then ginger paste, garlic paste, give.
Add spiced rice dal.
Add water when it becomes soft
If it boils, it should be given with peas.
Cover with peas.
After 10 minutes with half boiled potatoes and fried cauliflower, top with whole green chillies.
Simmer for 15 minutes.
Now serve with grated coconut on top.