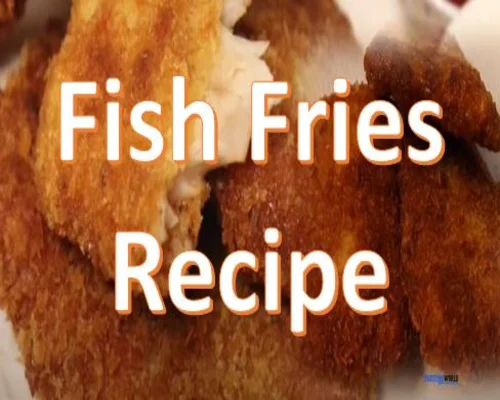 Fish Fries Recipe
Ingredients:

Fish Fillet: 500 grams,
Raw Chilli Bata: 10,
Ginger paste: 2 tbsp,
Garlic paste: 4 tbsp,
Lemon juice: 2 tbsp,
Cornflower: 100 grams,
Duck eggs: 2,
Biscuit Powder: 250 gms,
Salt: As per quantity,
White oil: As per quantity,
For the flavor:
Mint Bata: 1 bowl,
Coriander Bata: 1 bowl.
Method:

Wash the fish fillets well, apply salt and lime juice and keep for 15 minutes.
Then mix the raw chili paste, ginger-garlic paste, cornflower, egg, salt in a bowl.
Coat the fish fillets with this mixture.
Take one fillet and make chow--ka sap with biscuit powder.
Then dip again in the mixture and make sep with biscuit powder.
Now heat the oil and deep fry it till brown.
Serve hot with tomato and chili sauce and salad.