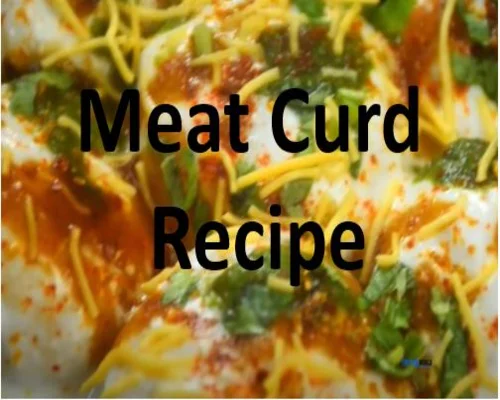 Meat Curd Recipe
Materials:

Mutton Mince: 1/2 kg,
Bread Crumbs: 8 tsp.
Garam masala: 1 teaspoon,
Turmeric: 1 teaspoon,
Chilli powder: 1 teaspoon,
Chopped coriander leaves: 1 cup,
Crushed mint leaves: 1 tsp.
Yogurt: 4 cups,
Chilli powder: 1/2 teaspoon,
Fennel Roasted and Crushed: 1/2 tsp.
Oil and salt: As per quantity.
Method:

Take the boiled meat mince and bread crumbs and mix it well with all the powdered spices, ginger, garlic paste, coriander and mint leaves, salt.
Then fry it in hot oil until golden brown.
Whisk the curd with enough salt.
Now put the kebabs on a plate and serve with whipped curd, chili powder, coriander leaves, fennel powder.