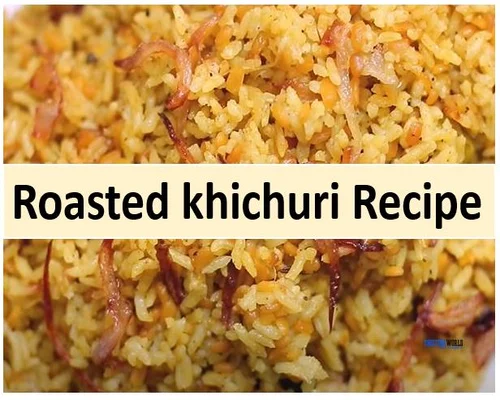 Roasted khichuri Recipe
Roasted khichuri Recipe
Materials needed
Govindbhog rice 100 grams,
Roasted mung dal- 150 grams,
Coconut- halved (cut into squares),
Cashew-20 grams,
Raisins-25 grams,
Garam masala powder-1 teaspoon,
Chilli powder-1 teaspoon,
Cumin powder-2 tsp,
Ginger paste-1 tablespoon,
salt-tasting,
sugar-predictably,
Ghee-3 tbsp,
Soybean Oil-3 Tablespoon,
As expected for boiling cumin and bay leaves,
Peas-half cup,
Paneer-100 grams (cut into squares),
Water-like quantity.
Continuous method of cooking

Heat oil in a pan and fry the coconut.
Then fry the cheese and keep it.
Wash the rice and dal thoroughly.
Heat oil and ghee in a pan.
Boil cumin and bay leaves in it and add rice and dal.
Fry well.
Now stir well with all the remaining ingredients except garam masala.
Add water when fried well.
But measure the water.
If one bowl of rice and dal mixture, one and a half bowl of water should be added.
Cook with a lid.
Chop the green chillies before adding them.
Add garam masala along with this.
This khichuri will be very crunchy like pollaw.
So check if it is like this before downloading.
Now pour it in a rice tray.
Spread coconut flakes on top and serve as shown in the picture.