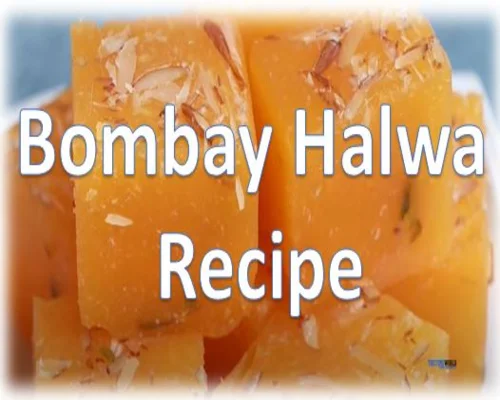 Bombay Halwa Recipe
Ingredients:

Flour: 2 tbsp,
Sugar: 350 grams,
Pure Ghee: 100 grams,
Cornflower: 2 tbsp.
Baking powder: 1/2 tsp.
Lemon juice: 1 tbsp.
Peanuts: 1 tablespoon,
Cashews: 1 tablespoon,
Pistachios: 1 teaspoon,
Small cardamom powder: 1/2 teaspoon,
Water: 2 cups,
Salt: As per quantity.
Method:
Make juice by mixing sugar and water in a bowl.
Make a batter with flour, water and cornflour.
Remove the juice from the heat and pour the juice into the flour and cornflour mixture and keep stirring.
Put the mixture back in the oven. Keep stirring with colors of your choice.
Add lemon juice later if the mixture is thick.
Add ghee little by little to this mixture.
Keep stirring until the mixture leaves the sides of the pan.
Mix cashew nuts, pistachio nuts and spread evenly in an oiled dish.
When cool, cut into small cubes with a knife or cut into desired shapes and serve.