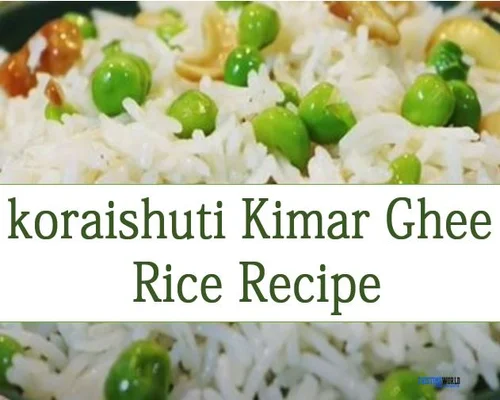 koraishuti Kimar Ghee Rice Recipe
koraishuti Kimar Ghee Rice Recipe
Ingredients:

Dehradun Rice: 1 kg,
Meat: 1 kg,
Chickpeas: 2 cups,
Ghee: 300 grams,
Sourdough: 200 grams,
Onion batter: 1
Garlic paste: 8 cloves,
Ginger: 1/2 tsp.
Jayitri Bata: 1 tsp.
Chilli powder: 1 tsp.
Sugar: 1 tsp,
Chopped Onion: 200 grams,
Raisins: 100 grams,
Garam masala powder: 1 tsp.
Salt: As per quantity.
Method:

Cut the meat into small pieces and mix the curd with the meat spices.
In a dekchi or pot, add 100 grams of ghee to brown the onion and add the remaining ghee, bay leaf, garam masala, curd and spiced meat to the pot.
Add 1 cup of water.
When the water is reduced after boiling, take it down.
Add more hot water in another pot, add rice, salt and bay leaf, drain the water when it boils well. When the rice is almost cooked, drain the foam and spread the cooked meat, ghee, fried onions, raisins and spice powder and mix well.