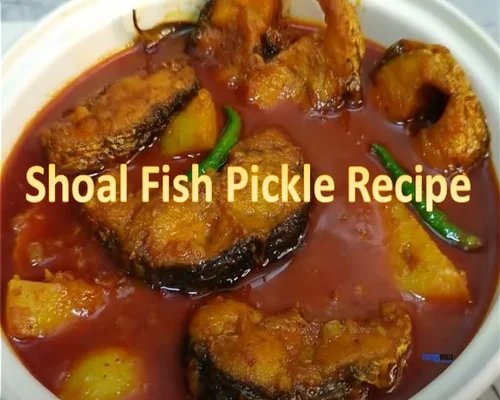 Shoal Fish Pickle Recipe
Today I will tell you about the delicious shoal fish pickle recipe. Shoal fish soup is very easy to make. Let us find out the recipe for making shoal fish soup-

Shoal Fish Pickle Recipe

Materials:

Shoal fish pieces 1/2 kg
1 cup chopped onion
1 bay leaf
2 tablespoons of coriander leaves
Ginger paste 1/2 teaspoon
1 teaspoon of garlic paste
2 teaspoons of turmeric powder
1 teaspoon of chilli powder
8 slices of green chillies
The amount of oil and water
Salt to taste.
Method:

First, wash and clean the fish well.
Then add half amount of spices and salt to the fish and keep it for about 10 minutes.
Then heat oil in a pan and fry the fish.
Heat the remaining oil and fry the onion, bay leaves and green chillies.
When fried, add all the remaining spices, salt and water to taste.
When the water dries and the oil rises to the top, add the fish.
Cover and cook with a little water, green chillies and coriander leaves.
When the fish is fried, lower it and serve.
------
tags-Snakehead murrel, snakehead murrel recipe, shoal fish