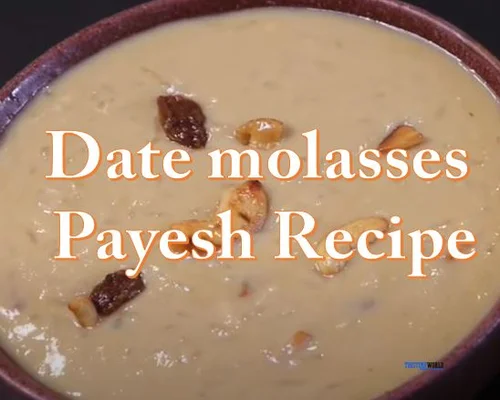 Date molasses Payesh Recipe
The sweet smell of molasses sticks with the palm juice and the mummy smell of poyla rice made from date molasses. Take a look at how to cook date molasses paste.

What it takes to make a paste of date molasses

Materials:

1 cup polao rice.
3 cups condensed milk.
2 cups heavy cream.
1/2 cup cashew nuts.
7 tablespoon date molasses.
4 green cardamoms.
1 bay leaf.
1 handful of raisins.
How to make date molasses paste

Method:

In a large pan, add milk and cream and bay leaves.
The milk should be thickened by reducing the fuel.
The polao rice should be washed in water, sifted and milked and the fuel should be reduced and stirred.
After 8 minutes, stir in date molasses and cardamom powder for another 20 minutes.
When the rice is cooked and the milk is drawn, it should be dipped in almonds and raisins.
Cool and actually serve.
Date molasses with Payesh made of handmade