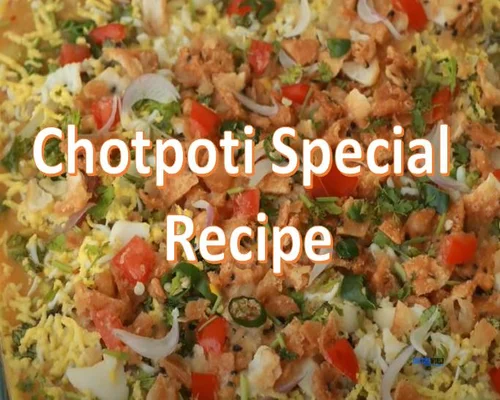 Chotpoti Special Recipe
Materials :-

Chotpoti dal – 2 cups
Boiled potatoes – 1 hour
Chotpoti masala- 2 tsp
Turmeric – 1 tsp
Salt – as per quantity
System :-

Soak the dal in water for eight hours.
Boil dal-salt-turmeric in a big pot with 2 glasses of water.
When the dal is cooked, add the boiled potatoes and mix it with the dal.
After 3 minutes, mix the spices and cook for another 5 minutes.
Now when it becomes slightly thick, take it off the stove.
For the dressing:-

Chopped cucumber- 1 t
Onion - Chilli - Coriander Chops - As per amount
Boiled egg-1
Blisters – 6
Turmeric – 1 cup
Chaat masala – little
Turmeric Sour:

Tetul Kanth
A little chaat masala
Sugar – 1 teaspoon
Bit salt – little
Mix everything.
Decoration:-

Pour the Chotpoti in a big dish and mix well with little tamarind paste.
Then one by one chopped onions, chopped cucumbers, chopped chillies, chopped coriander leaves, boiled eggs and sprinkle the chaat masala on top.
Tips-

Do not over boil the dal water.
Do not keep it too tight.
Take down the water of the dal.